97 New York Infantry 1905 Reunion Badge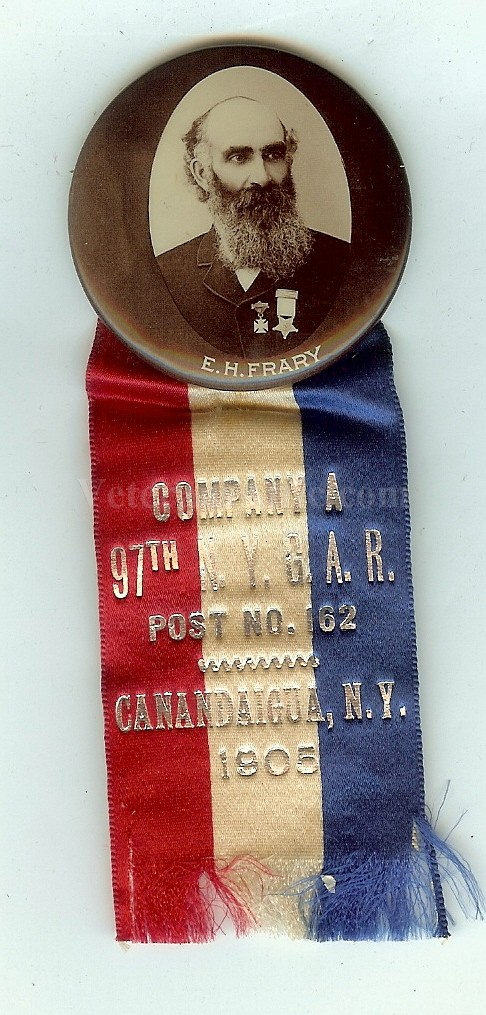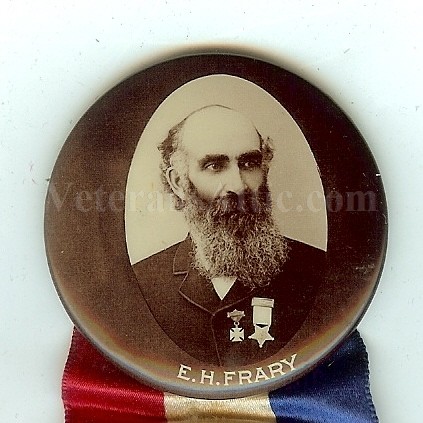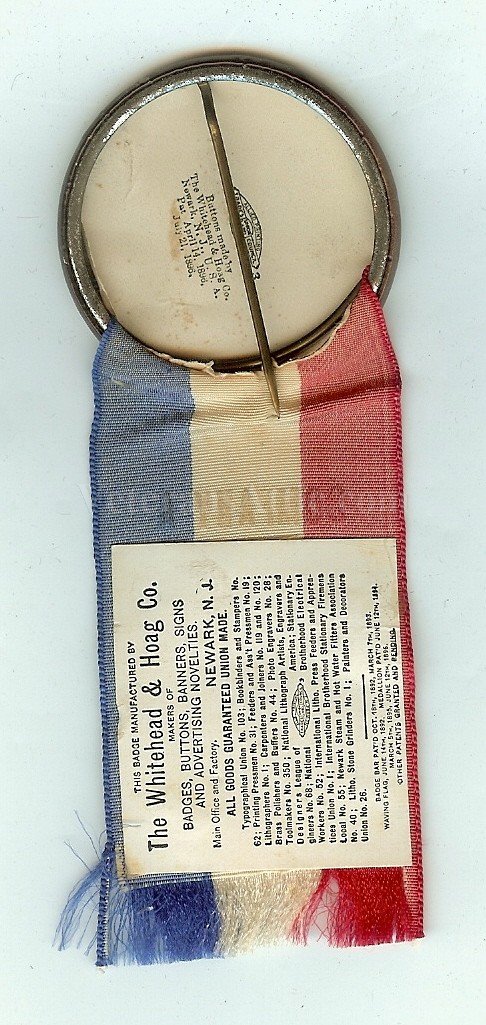 A nice, crisp badge worn by a member of the 97th New york Infantry at their 1905 reunion held in Canandaigua, New York.  The hanger of the badge is a celluloid pinback.  On the pinback is a photograph of E.H. Frary.  In the photograph, E.H. Frary is wearing a G.A.R. officers badge and what looks like a regimental badge.  Attached to the pinback is a red, white, and blue ribbon.  Written on the ribbon in silver type ink is "Company A - 97th N.Y. - G.A.R. Post No. 162 - Canandaigua, N.Y. - 1905".  The badge was made by the Whitehead & Hoag Company, Newark, New Jersey.




97th Infantry Regiment
Civil War
Third Oneida; Boonville Regiment; Conkling Rifles

History

Mustered in: February 18, 1862
Mustered out: July 18, 1865

The following is taken from New York in the War of the Rebellion, 3rd ed. Frederick Phisterer. Albany: J. B. Lyon Company, 1912.
This regiment, Col. Charles Wheelock, was organized at Boonville, and there mustered in the service of the United States for three years February 18, 1862. In May, 1863, it received by transfer the three years' men of the 26th Infantry; June 7, 1864, the men of the Sad Infantry, not mustered out with their regiment, and August 10, 1864, 103 men of the 94th Infantry. At the expiration of its term of enlistment, the men entitled thereto were discharged, and the regiment retained in service.
The companies were recruited principally: A and C at Boonville; B in Lewis county; D and F at Salisbury; E at Prospect and vicinity; G in Herkimer county; H at Utica and Lowville; I at Little Falls; and K at Rome.
The regiment left the State March 12, 1862; served in General Wadsworth's command, Military District of Washington, from March, 1862; in 2d Brigade, 2d Division, Department of Rappahannock, from May, 1862; in 1st Brigade, 2d Division, 3d Corps, Army of Virginia, from June 26, 1862; in 1st Brigade, 2d Division, 1st Corps, Army of Potomac, from September 12, 1862; in 3d Brigade, 2d Division, 1st Corps, Army of Potomac, from December, 1862; in 2d Brigade, same division and corps, from May, 1863; in same brigade and division, 5th Corps, Army of Potomac, from March, 1864; in 2d Brigade, 3d Division, 5th Corps, from May 9, 1864; in 2d Brigade, 2d Division, 5th Corps, from May 30, 1864; in 2d Brigade, 3d Division, 5th Corps, from June 6, 1864; and it was honorably discharged and mustered out, under Col. John P. Spofford, July 18, 1865, near Washington, D. C.
During its service the regiment lost by death, killed in action, 7 officers, 97 enlisted men; of wounds received in action, 5 officers, 73 enlisted men; of disease and other causes, 1 officer, 156 enlisted men; total, 13 officers, 326 enlisted men; aggregate, 339; of whom 54 enlisted men died in the hands of the enemy.

The following is taken from The Union army: a history of military affairs in the loyal states, 1861-65 -- records of the regiments in the Union army -- cyclopedia of battles -- memoirs of commanders and soldiers. Madison, WI: Federal Pub. Co., 1908. volume II.
Ninety-seventh Infantry.—Cols., Charles Wheelock, John P. Spofford; Lieut.-Cols., John P. Spofford, Rouse S. Eggleston; Majs., Charles Northrup, Rouse S. Eggleston, Delos E. Hall. The 97th, called the Conkling Rifles, was recruited in Oneida and Herkimer counties and mustered into the U. S. service at Boonville, Feb. 19, 1862, for a three years' term. It left for Washington on March 12; was quartered at Fort Corcoran as part of Gen. Wadsworth's command until May, when it was assigned to the 2nd brigade, 2nd division, Department of the Rappahannock and moved into Virginia, where it occupied various posts in the neighborhood of the Rappahannock river; was engaged at Cedar mountain, and lost 111 in killed, wounded and missing in the Manassas campaign. On Sept. 12, the regiment, which had served with the 3d corps, was assigned to the 1st corps and fought in the 1st brigade, 2nd division at South mountain and Antietam, suffering in the latter battle the most severe loss of any battle of its service—24 killed, 74 wounded and 9 missing. At Fredericksburg the regiment was prominently engaged, but not at Chancellorsville in the following May. It marched with the corps to Gettysburg and distinguished itself by the brilliantly executed capture of the colors of the 20th N. C. and 382 prisoners'. On the southward march it was present at Bristoe Station, and was in the Mine Run movement. While in camp at Brandy station, a sufficient number reenlisted to secure the continuance of the 97th in the field as a veteran regiment. In June, 1864, it was joined by the veterans and recruits of the 83d N. Y. infantry and in August, by the 94th, the 26th N. Y. having already been added to it in May, 1863. During Grant's famous campaign the 97th served in the 3d and 2nd divisions, 5th corps. Its heaviest losses during this campaign and subsequent operations were in the Wilderness, at Spottsylvania and near the Weldon railroad, but it shared in other engagements Of the brigade at the North Anna river, Totopotomy, Cold Harbor, White Oak Swamp, before Petersburg, in the Hicks-ford raid and the Appomattox campaign. It was mustered out near Washington, July 18, 1865, having lost dulring service 182 by death from wounds and 157 by death from accident, imprisonment or dis-ease, of whom 54 died in captivity.




Edward Frary
Residence was not listed; 23 years old.



Enlisted on 8/25/1863 at Canandaigua, NY as a Private.



On 8/25/1863 he mustered into "A" Co. NY 97th Infantry 

He was discharged for wounds on 2/13/1865





He was listed as:

* Wounded 5/6/1864 Wilderness, VA (Ball passed through left shoulder, lung)





Other Information:

born 4/25/1840 in Lyndon, Cattaugus Co, NY

Member of GAR Post # 162 (Albert M. Murray) in Canadaigua, NY





(Or Fraey.  Wife: Emily Cross. Children: Nellie, Edward,

 Minnie)



Sources used by Historical Data Systems, Inc.:
Item #: 10044
Price: $60.00 USD
---
---
Cash, Check, Money Order, and PayPal
We now accept PAYPAL for those of you who would like to use credit cards! Please send to
vann@veteransattic.com
.
Your satisfaction and happiness is our major concern. We will be glad to refund your purchase price if you are not happy with your purchase if returned within fifteen days of your receipt.
You can order through our web site or you can call 803-431-1798 for your order. Sales are complete when we confirm items are still in stock.
We ship using the United States Post Office.
---